Simply Delicious Ways to Elevate Your Taco Tuesdays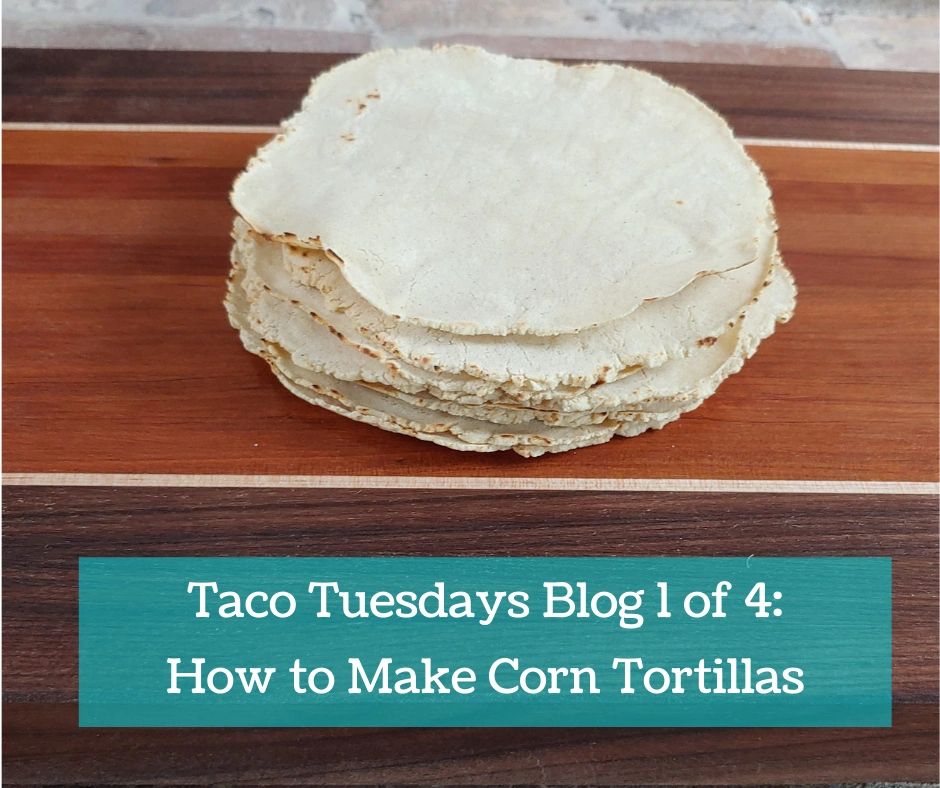 We absolutely fell in love with the authentic and fresh flavors we experienced in Mexico, Belize, and Guatemala. All the dishes were made by hand with the freshest ingredients and the tastiest homemade tortillas.  
Crazy For Tacos
Our family is crazy about tacos and have them for dinner at least once a week. Through the years we have discovered creative ways to elevate our tacos. We are always trying to duplicate the amazing flavors we experienced during our travels, so our tacos are more interesting and delicious. 
We thought it would be fun to share a series of blogs on all things tacos, including some of our favorite taco dishes, sauces, toppings, and side dishes to help you spruce up your Taco Tuesdays.
What Makes a Great Taco?
We believe a great taco includes layers of the freshest ingredients that perfectly play off each other's flavors and textures. This usually includes a protein or vegetable, toppings, and sauces. But let us not forget about the sometimes-overlooked tortilla that is critical to making a composed, delicious bite. A soft but ever so slightly crisp corn tortilla makes any taco complete.
Instead of using the tried-and-true ground beef or chicken as the main ingredient for your tacos, how about trying something new and exciting? Our three favorite tacos right now include using grilled spicy shrimp, grilled salmon, or pork carnitas as the star of the show. We will share all three of these incredibly delicious recipes in the next blog in this series next week. 
Don't Forget the Tortilla
If you want a great taco, you need a great tortilla! Sometimes forgotten, a warm, fresh corn tortilla is essential to a delicious taco. In Mexico and Central America, tortillerias (tortilla bakeries), which can be found in nearly every neighborhood, are the place to buy your fresh tortillas. They produce authentic, home-style tortillas made fresh every day.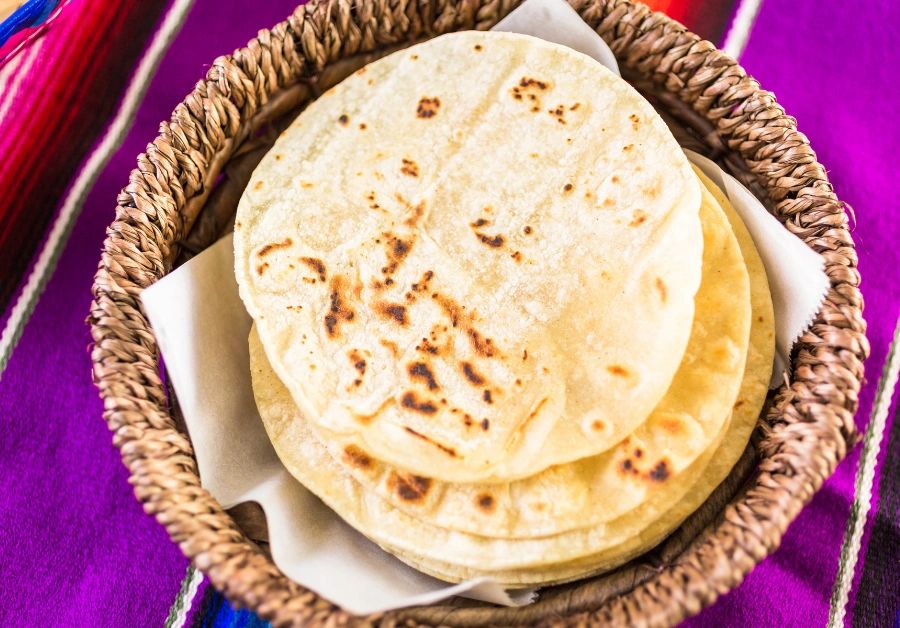 Journey Back to Fresh Tortillas
Floyd was incredibly resourceful during the quarantining time, and he leaned into the skills he learned when we were Peace Corps Volunteers together in Belize. Much to my, and our son's delight, he began making homemade flour and corn tortillas again. What Floyd doesn't know, there is absolutely no going back to store-bought tortillas now that we have tasted them freshly made! It truly elevates our Taco Tuesdays to a whole other level.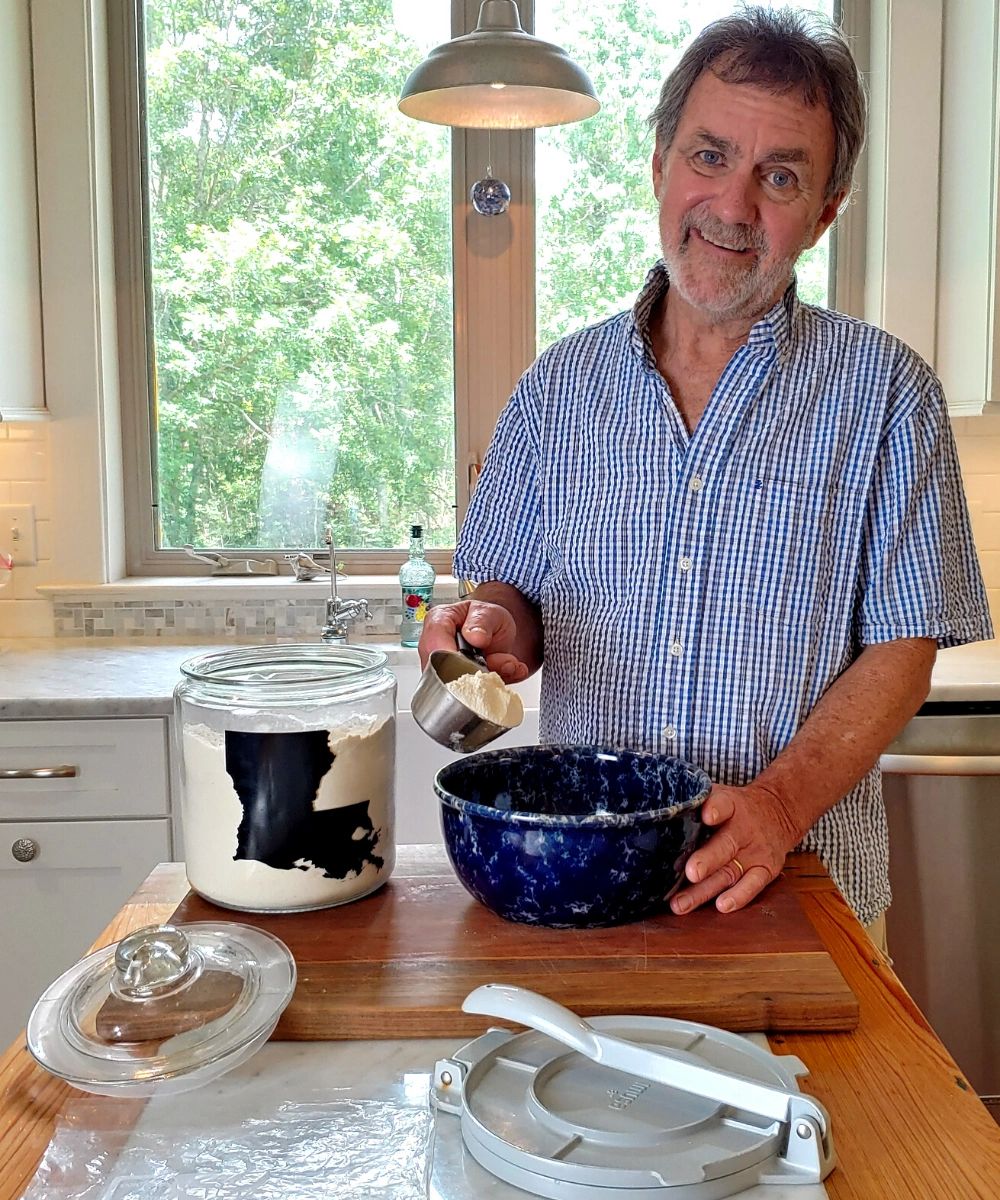 Learning from the Best
Floyd learned how to make tortillas from the very best over twenty years ago - from the sweet ladies in the village where he lived in Belize. After they had a good laugh about the fact that Floyd wanted to learn how to make tortillas, they had a lot of fun teaching him how.
The corn tortillas that Floyd has been making fresh at home are made with Masa Harina, which translates to "flour dough" and is fine corn masa flour that is rehydrated with water. The well known Maseca brand is easily found at most grocery stores and because it is made of corn, this flour is gluten-free. These tortillas taste amazing and are surprisingly easy to make.
How to Make Corn Tortillas with Corn Masa Flour
The instructions on the Maseca package state that 2 cups of corn flour make 19 tortillas, however, we like our tacos about 6" in diameter so there is plenty of room for tasty toppings that add extra layers of flavor. He makes about 10-12 fresh corn tortillas at a time, so there are always extras for a breakfast taco or huevos rancheros the next morning or a quick quesadilla at lunch. They stay fresh in the refrigerator for several days, although they always seem to be eaten before then. Just heat through on a skillet before serving. 
We each eat two loaded tacos with homemade side dishes, and it makes the perfect meal. In  one of our next Taco Tuesday blogs, we will share some delicious and easy to make taco toppings and favorite sides dishes. 
If you would like to try your hand at making these fresh corn tortillas, which are a lot easier to make than you think, below are some helpful tips. 
1)  The Maseca instructions state to use 2 cups of masa to about 1 ½ cup of warm water. However, Floyd always adds more water than then 1 ½ cups. Once you make a few batches, you will learn how much water you prefer to add to get your masa to the right consistency, so your dough isn't too dry and crumbly or too wet and sticky.
Tip: add warm water, not cold water to the masa!
2)  To mix the masa well, it is best and much more fun, to knead the dough with one hand while you hold the bowl with the other. You will learn how the masa should feel to make the perfect tortilla. It should be a soft, pliable dough.
3) Next, take small handfuls of your masa and roll into a ball, a little bigger than a golf ball. This makes about a 6" diameter tortillas. Rolling all the masa balls at once seems to be the most efficient. Cover your bowl with a moist, clean towel so the dough doesn't dry out.
Tip: While you are rolling the masa, heat your skillet so it gets hot, about medium-to-medium high heat. A Comal (a smooth, flat griddle used in Mexico and Central America to cook tortillas) or a cast-iron skillet works well. 
Our Belizean friends would make perfectly-sized, thin tortillas with their bare hands, and it was impressive! But for those of us that did not grow up making tortillas since we could walk, using a tortilla press is a good choice.
Tip: The best tip we can share, that we learned the hard way, is to make sure you line the tortilla press with plastic on either side of the masa before you press down, otherwise it will stick every time!
4) A large, gallon sized Ziplock bag works great to line the tortilla press. Just cut off the top seal portion and down the sides into two equal pieces. 
Tip: Place a little bit of water between the plastic and the press, so the plastic doesn't slip when you press.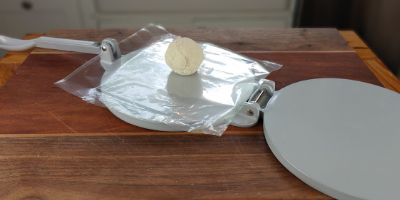 5) Place the ball in the middle of the press, with plastic on either side. Push down on the press handle slowly and evenly. Open the press, gently rotate your tortilla, and press again lightly to make sure it is even.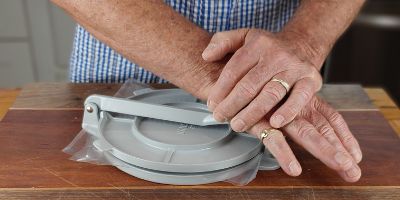 Once you learn how to use the press and can also better gage when to flip the cooking tortilla, you will be able to press one tortilla while another is cooking to save time.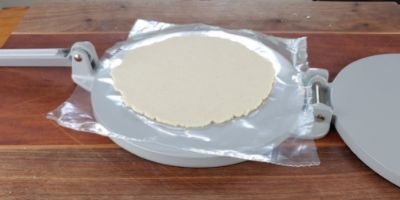 6) Remove the tortilla from the plastic and gently lay it on the hot skillet. It will take about 30 seconds for the first side and a little longer for the second side to produce beautiful, lightly brown tortillas. You may see little bubbles when the first side is ready to flip. Just like learning the best consistency for the masa dough, you'll learn how much time is best to not burn your tortillas as you make them more. 
7) We have found that cooling the tortillas on a drying rack works well so they do not get soggy. Or you can put them in clean, dry dish towel to keep them warm. Serve them warm right off the pan or re-heat quickly on the skillet before filling and enjoying the tastiest corn tortilla ever. 
Let us know how it goes. Once you eat a freshly made sweet corn tortilla, we bet you never go back to store bought tortillas again, too!