How to Create a Simply Delicious & Beautiful Charcuterie Board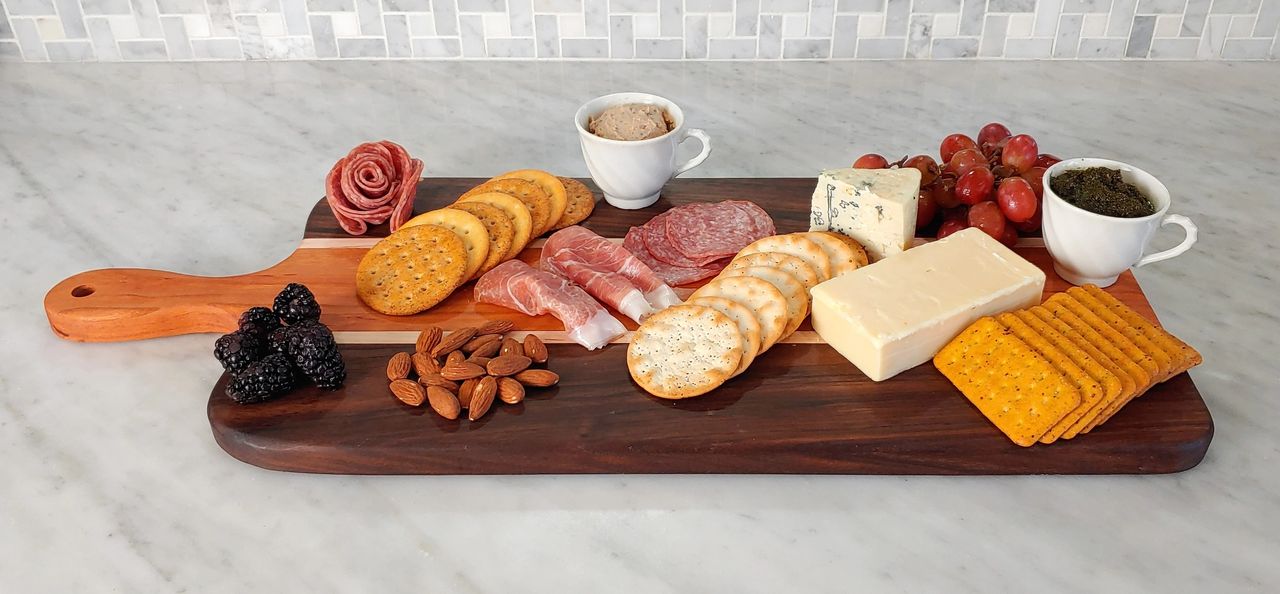 Whether you are hosting a holiday party or treating yourself and your family at home, a charcuterie board is the perfect canvas for creating delicious and interactive flavors. We have wonderful memories of gathering with family and friends around beautiful boards and platters filled with delicious treats during the holidays. 
What is Charcuterie?
Charcuterie (pronounced shahr-ku-tuh-ree) is a French term referring to a type of food preparation devoted to cured meats, primarily pork. Charcuterie was created out of necessity. It is how meats were preserved (dry cured) before refrigeration. Someone that prepares charcuterie is called a Charcutier.

What to Include on a Charcuterie Board
Traditional charcuterie boards are made with cured meats, cheese, crackers, fresh or dried fruit, olives, nuts, pickles, and bread. An ideal charcuterie has a good balance of flavors. We love adding a mix of salty, sweet, savory, and spicy flavors to our charcuterie board. 
It is also nice to include diverse textures of hard and soft cheeses and cured meats; crunchy nuts, crackers, and pickles; and smooth and creamy spreads such as humus, pesto, or jams. But half the fun is being creative and adding what you enjoy munching on, and most importantly makes you happy.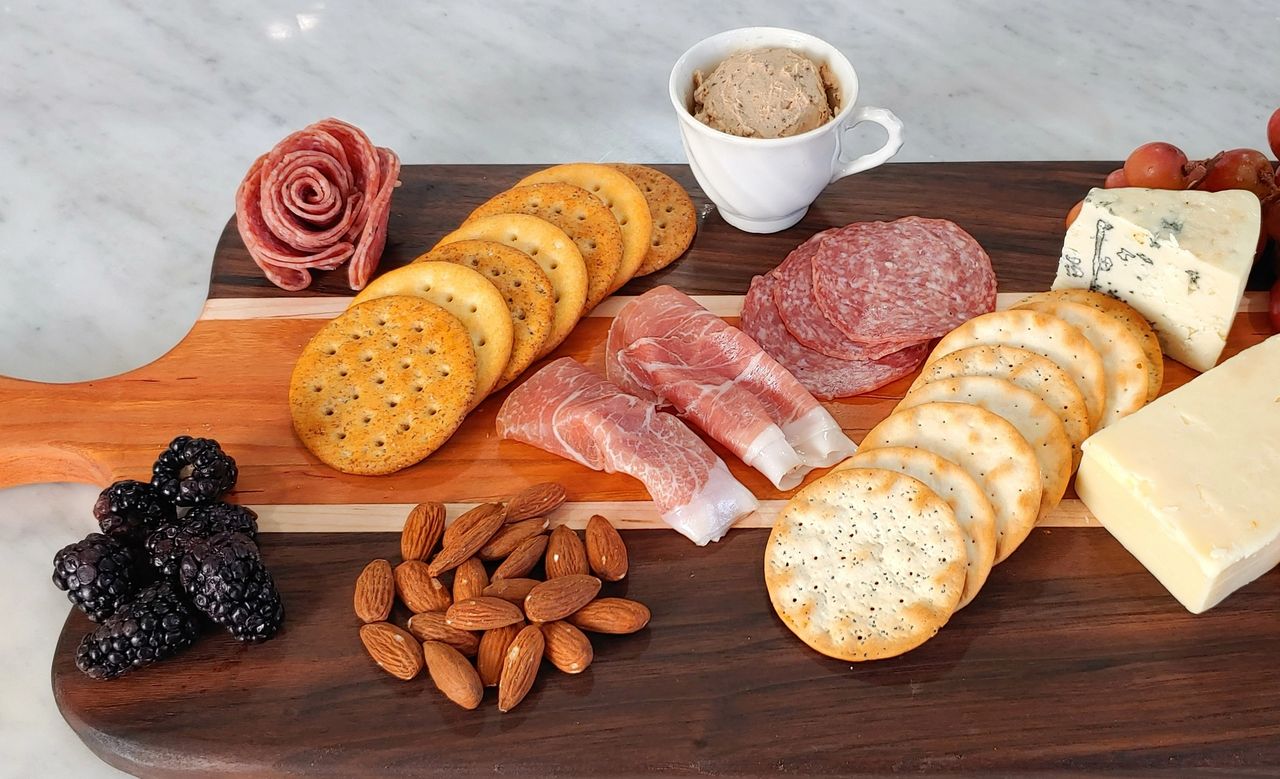 1) Savory: Cured meats are usually the star of the charcuterie, and we usually include prosciutto, salami, and pâté. 
Growing up in Vermont, it is no surprise that cheese is my favorite part of the Charcuterie. I especially love aged hard cheeses such as gouda and cheddar. But soft cheeses like goat cheese and brie spread on a crisp cracker with prosciutto and fresh pesto is the best bite ever. We always like to include other diverse offerings that provide a little something for everyone, so our vegetarian friends are just as happy as the meat lovers.
Quick tip: unwrap cheese and let sit at room temperature for about an hour before serving to allow "breathing time," so the cheese aromatics can shine through. 
2) Salty:  Having an assortment of flavorful pickles, olives (black, green, or pitted Kalamata), pickled vegetables, and nuts adds a nice salty element to the board.
3) Sweet:  Charcuterie boards most often include savory and salty items, but why not add an unexpected, sweet treat? This is always a huge hit with kids and anyone with a sweet tooth. You can do this by simply including fresh fruit such as grapes, apples, or berries. Dried fruits are also nice, sweet options, and we commonly use apricots, dates or figs. Adding fresh seasonal fruit is the best.
During the holidays when citrus is ripe, blood orange slices add a festive red color to your board. Add fruit dipped in chocolate and everyone will cheer.
Other sweet additions to include on your board are jams and chutney for spreading on crackers with layers of savory cured meats. We always have homemade blackberry jam in the refrigerator, which is surprisingly easy to make.
One of Floyd's favorite things to add to our boards are candied pecans, which are a must during the holidays in the South.
4) Spicy: Adding fresh or pickled jalapenos and spicy mustard to your charcuterie board is a fantastic way to spice things up. Even more fun is adding a spicy note to candied pecans with this wonderful Union Square Café Bar Nuts recipe that we have adapted to our taste through the years.
Union Square Café Bar Nuts:
Roast 2 ½ cups of whole nuts in a 375-degree oven for about 8-10 minutes, until lightly golden and fragrant. We like to use pecans and cashews, but you can add any of your favorite nuts (almonds, peanuts, hazelnuts etc.). In a large bowl combine 1 tablespoon finely chopped fresh rosemary, ¼ teaspoon of cayenne pepper, ¼ teaspoon of creole seasoning, 2 tablespoons dark brown sugar, and 1 tablespoon of melted butter. Add the warm, toasted nuts and combine. Serve warm.
5) Artisan Breads & Crackers:  Artisan breads and gourmet crackers with different shapes, textures, and flavors keep things interesting and are the perfect vehicles to layer your charcuterie creations. Baguettes are commonly seen on Charcuterie boards, but since Floyd always has homemade sourdough bread on hand, it works as a delicious base to pile on soft cheeses, savory meat, and sauces. Don't forget to set out a plate of olive oil for dipping bread.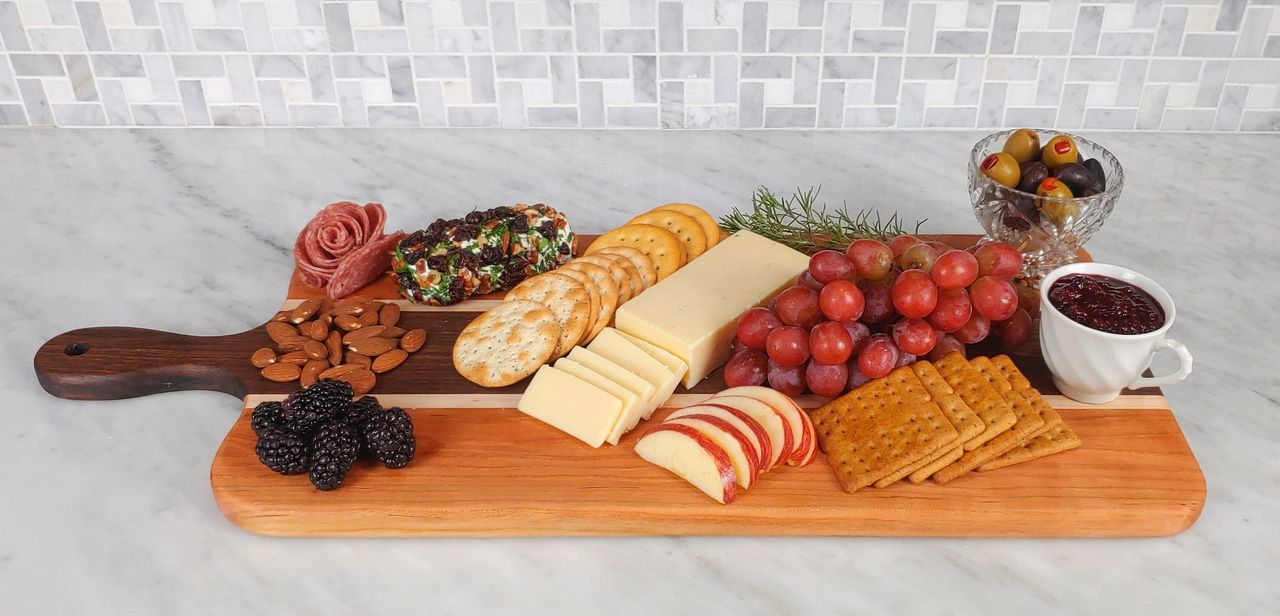 Half the Meal is Eye Appeal
Have fun curating your own board and making it a feast for the eyes. Adding assorted colors, textures, contrasts, and heights make your board more visually appealing. We love adding colorful touches with fruit and sauces, such as deep purple grapes, bright red bruschetta, and vibrant green pesto. 
I used to think that I had to fill every inch of my charcuterie board, but there are no rules. A little spacing between the layers of flavors allows guests to easily access each item without food falling off your board. This also allows you to show off your pretty, handcrafted wood boards. 
It is fun to mix and match boards of varied sizes, shapes, and types of wood. We like using many boards - the longer charcuterie board, a smaller cheese board, and even our cutting board joins the party if needed. 
Willow Nola's New Charcuterie Boards
A wood charcuterie board provides wonderful rustic charm to your appetizer spread. It is extremely versatile since it can be used as a cutting board, making it easy to slice charcuterie items, right on the board. We are so excited to share our brand-new Willow Charcuterie Board designs just in time for you to create your own beautiful charcuterie to gather around with your family and friends this holiday season.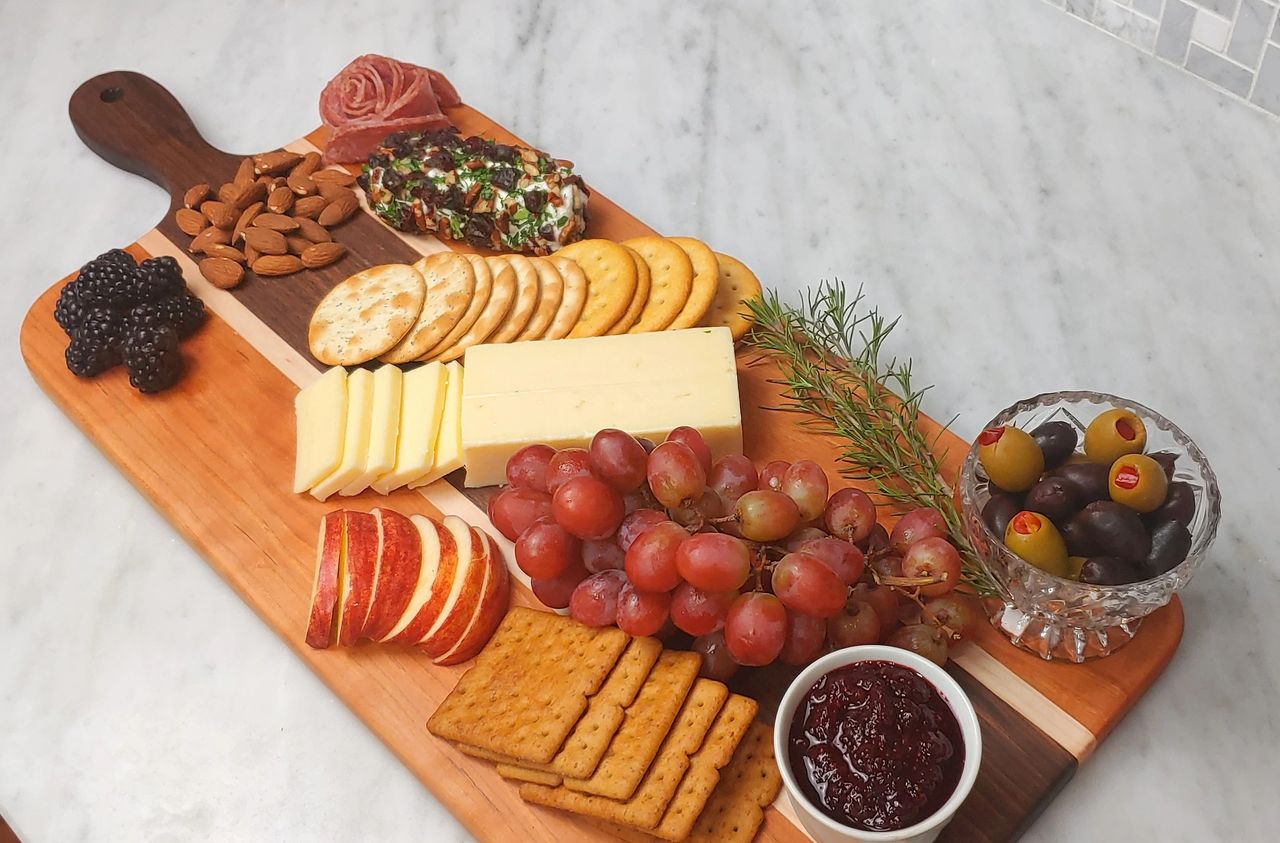 Charcuterie is Perfect for the Holidays
Charcuterie truly is a culinary art and the perfect appetizer to serve when you are entertaining over the holidays. Nothing makes your guests feel at home more than a thoughtfully prepared board filled with diverse treats.
One of our favorite things to add to a holiday charcuterie board is a Holiday Goat Cheese Log. The roasted pecans, fresh parsley and dried cranberries make it festive. It is super delicious and the best part – it is so easy to make. 
Holiday Goat Cheese Log:
Remove goat cheese (4 ounces) from wrapper and allow to soften to room temperature. Roast ¼ cup of pecans in a 375-degree oven for about 8-10 minutes, until lightly brown and slightly aromatic. Let pecans cool. Chop 2 tablespoons of fresh parsley, pecans and ¼ cup of dried cranberries and mix well on a plate. Gently roll the goat cheese log on the mixture to coat completely. Drizzling a little bit of honey on top makes it extra special. Serve with your favorite crackers.
Other Fun Ways to Use Your Charcuterie Boards
Charcuterie boards can be used in so many ways. Below are some other ideas on how to use your beautiful boards to make any meal special. 
Taco Board: Lay out all your favorite taco toppings on your board such as, homemade guacamole, remoulade sauce, Pico de Gallo, cilantro lime red cabbage slaw, and cheese. Having everything on one board makes assembling your perfect taco fun and easy. 
Baked Potato Bar: Need a quick dinner in a pinch? A baked potato bar with a big green salad always makes everyone happy. Fill the board with all your favorite fixings, such as butter, sour cream, grated cheese, crispy bacon, and green onions, and dive in. 
Lox and Bagels Brunch Board: Some of our favorite items to layer onto bagels or homemade bread are whipped cream cheese, tangy capers, thinly sliced cucumbers, and red onions with lots of creamy smoked salmon on top.
Dessert Board: Setting up a dessert board is a fun and interactive treat. Add fresh fruit and cake bites to your board and set up a fondue pot with melted dark chocolate on the side. Let you guests hand dip their treats themselves. Who doesn't love chocolate covered strawberries? 
We hope you have fun creating your own delicious and beautiful charcuterie boards that you can enjoy gathering around with your family and friends this holiday season. We would enjoy hearing what you love to include on your charcuterie board.