Simply Delicious Ways to Elevate Your Taco Tuesdays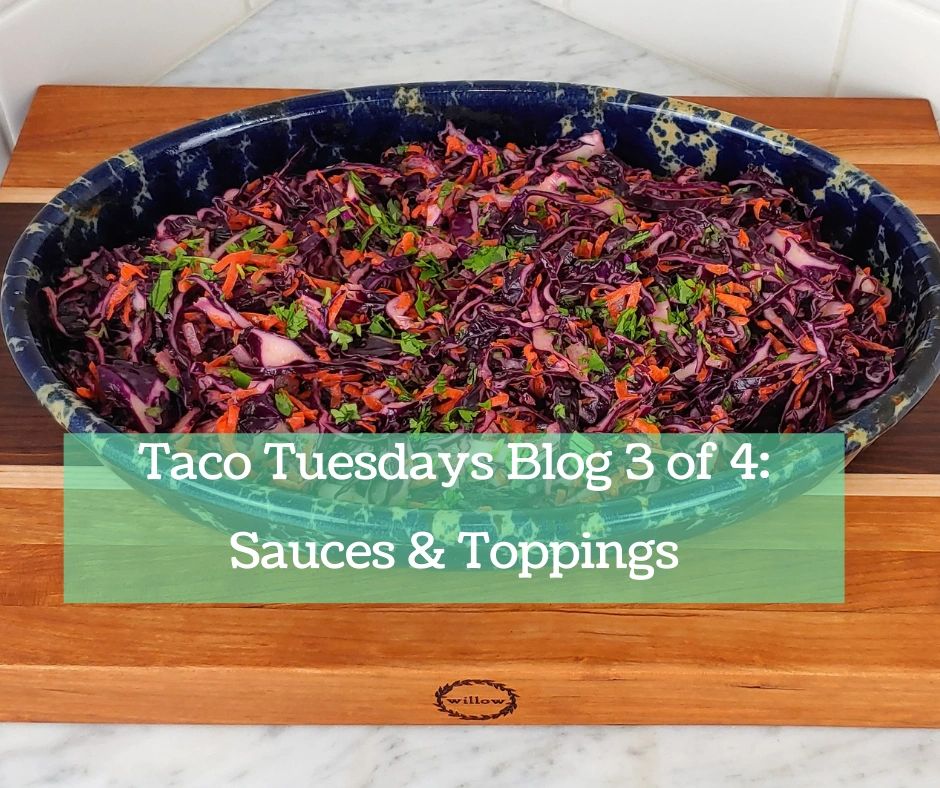 Tacos are a fun weeknight dinner, which can easily be elevated to dinner party worthy as well. Our favorite part of taco nights is laying out all the toppings on the kitchen counter and letting everyone dive in and build their own perfect taco to their taste. Being able to customize each taco with different sauces and toppings will please even the pickiest eaters and provide alternatives to those with dietary restrictions or food allergies.
We have been increasingly trying to make everything fresh instead of purchasing bottled sauces or other prepackaged food. We have found that it really doesn't take that long to quickly whip together fresh Pico de Gallo, guacamole, or pickled red onions for your tacos, instead of buying it in a jar. In this blog in our Simply Delicious Ways to Elevate Taco Tuesday series, we share some of our favorite homemade sauces and toppings for your tacos that add extra fresh flavors and a nice crunch.
Remoulade Sauce Makes Everything Taste Better
Homemade sauces can truly transform something tasty to exceptionally delicious. In our previous blog on 10 Simple Ways to Use Canning Jars, we shared how we make many homemade sauces like remoulade sauce right in a jar, to brighten up po-boys, or as a dipping sauce for seafood or chicken. But our favorite way to use remoulade sauce is on tacos. Our son loves adding remoulade sauce to just about anything, including rice. 
Many of our favorite New Orleans chefs have their own signature remoulade sauce that are incredibly delicious. We love to include fresh vegetables and herbs from our garden in everything we cook, but our version of remoulade sauce is normally made as we are about to put dinner on the table. So, we create our own quick remoulade sauce in a canning jar, usually without measuring. Although it has fewer ingredients and is made on the fly, it still has a nice depth of flavor and is kid approved.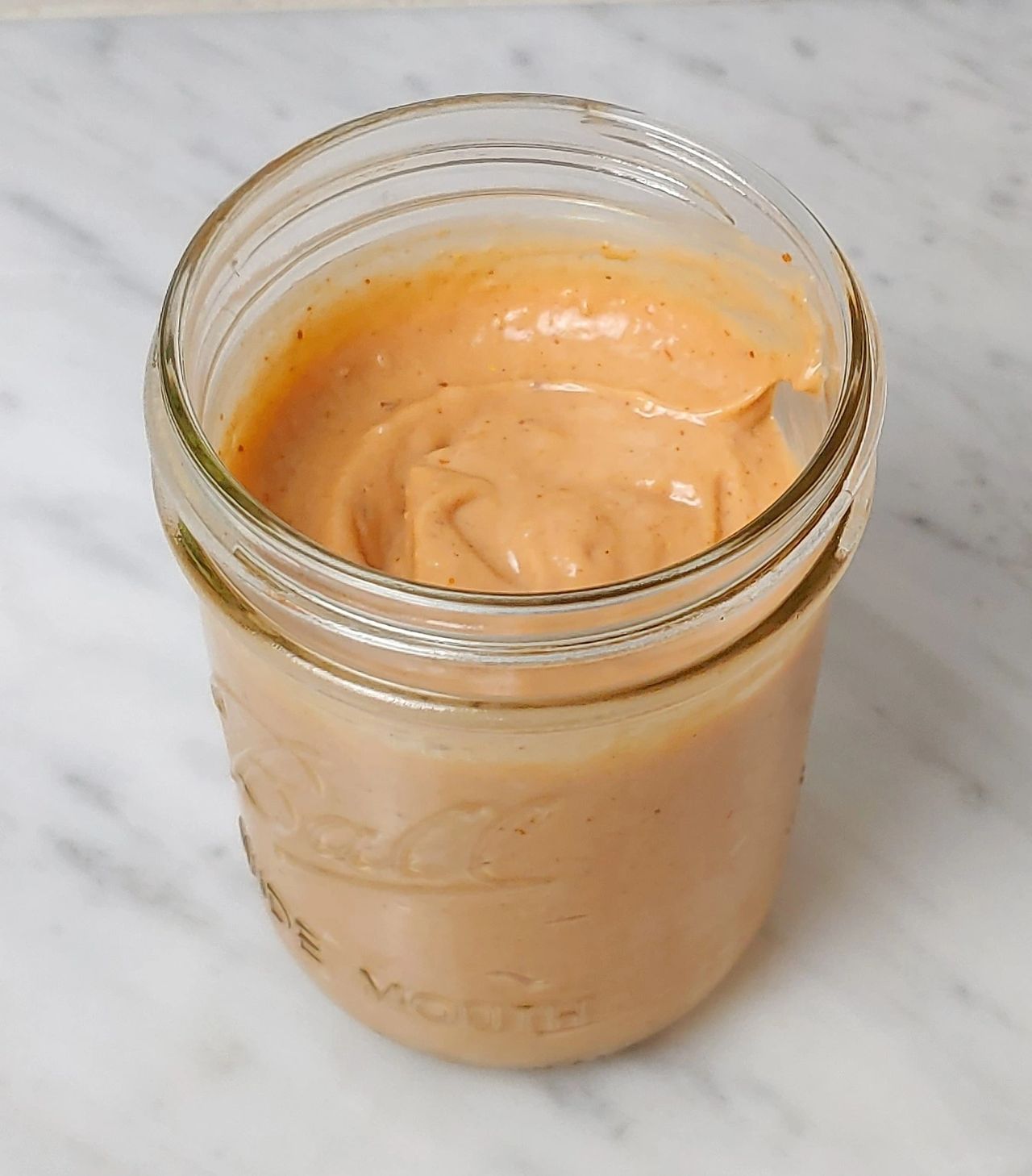 Quick Remoulade Sauce
In a wide-mouth quart canning jar, add ¾ cup of mayonnaise, 2 tablespoons of cream-style horseradish (or prepared horseradish), 2 tablespoons of Creole (or spicy brown) mustard, 2 tablespoons of Dijon mustard, 3 tablespoons of ketchup, 1 tablespoon of lemon juice, and salt and pepper to taste. Mix well and it is ready to use. Add a canning jar cover and store in the refrigerator for up to 5 days.
Our Favorite Guacamole Recipe
We always have fresh avocados at various stages of ripening on our kitchen countertop. The avocados are often used to make guacamole to have with our favorite Mexican dishes, and whatever is remaining is enjoyed with breakfast (avocado toast, breakfast burritos) and lunch (sandwiches or burgers) the next day.
We have tried many different guacamole recipes through the years and created our favorite ten years ago when it was our turn to host our friends Dinner Club and we made an authentic Mexican themed dinner. This Guacamole recipe is super creamy and tasty and perfect on tacos and enchiladas. We like to add tomatoes to our guacamole when we entertain to give it some extra color. You can add the diced tomatoes in the guacamole or on top when you serve.
Everyone loves guacamole and tortilla chips. It is a perfect, make ahead appetizer for your guests to enjoy while you're cooking dinner. In our first Taco Tuesday blog we shared how to make homemade corn tortillas. If we ever have any leftover corn tortillas and they aren't eaten with breakfast or lunch, we make tortilla chips. It's super easy.
Easy Tortilla Chips
Preheat oven to 350 degrees. With a pastry (or barbeque) brush, lightly brush each corn tortilla with oil or simply spray both sides with cooking oil spray. Stack tortillas and cut into six triangles - like cutting a pie. Separate pieces and arrange on a lightly greased baking sheet and sprinkle with kosher salt. Toast in the oven until crisp or lightly brown, about 10-12 minutes. Watch closely so they don't over bake. 
We prefer our tortilla chips plain, but if you'd like yours to have some spice, you can add a little bit of chili powder (¼ tsp) and pinch of cayenne to your oil before you brush on the corn tortillas.  
Avocado Lime Crema
In our second Taco Tuesdays blog (Healthy & Delicious Tacos), we mentioned that adding an avocado lime crema to Spicy Shrimp tacos works well to cool the spice and compliment the shrimp. Avocado and Lime Crema is one of our new favorite ways to use avocados. Crema is used just like sour cream as a topping but is thinner and a bit tangier. 
The Avocado and Lime Crema can be used as a topping on any of your favorite Mexican dishes, such as tacos, burritos, or enchiladas, and it also makes a great dipping sauce or salad dressing. 
Most crema recipes include sour cream. Until recently I had a serious addiction to sour cream. I was always getting "the look" from my husband and son as I piled on hefty spoonsful on top of my favorite Mexican dishes and loaded baked potatoes. One day, I reluctantly replaced the sour cream in our homemade buttermilk ranch dressing with Greek, whole milk plain yogurt, and surprisingly I, and most importantly our teenage son, couldn't tell the difference. I have since replaced sour cream with Greek plain yogurt (whole milk) in other recipes and it continues to impress. 
Crema is meant to be drizzled on your finished tacos to add an extra touch of flavor and brightness. Well, I can tell you this crema is so delicious there is no drizzling going on in our household. Only large dollops are being served up on our tacos. 
Avocado Lime Crema Recipe
In a blender, food processor or a compact blender (personal smoothie blender) add 2 avocados (peeled & pitted), ¼ cup of fresh cilantro, ½ cup of Greek plain yogurt (whole milk), 2 tablespoons of milk, juice of 1 lime (3 tablespoons), ¼ teaspoon garlic powder, ½  teaspoon salt, and ¼ teaspoon pepper. Blend until smooth. 
Cilantro-Lime Red Cabbage Slaw
One of our favorite toppings that provides a nice, bright crunch to tacos is Cilantro-Lime Red Cabbage Slaw. It's not only delicious but the deep purple color of the coleslaw makes any taco beautiful. This tasty and versatile coleslaw is our favorite topping on pork carnitas tacos. But it is also delicious on sandwiches and burgers, or as a side dish with your weekend barbeques or potlucks.
Many Cilantro-Lime Coleslaw recipes include a lime vinaigrette dressing. Since our son likes the creaminess of the traditional coleslaw dressing, we decided to try adding a little bit of mayonnaise to this liter dressing and we all really liked it. However, you can easily leave the two tablespoons of mayonnaise out of the dressing or switch the mayonnaise with Greek Plain (full fat) yogurt for a healthier option.
Growing up we always added sugar to our coleslaw dressing, no wonder we loved it so much. Now, we add honey to the lime dressing to give the coleslaw the right amount of sweetness.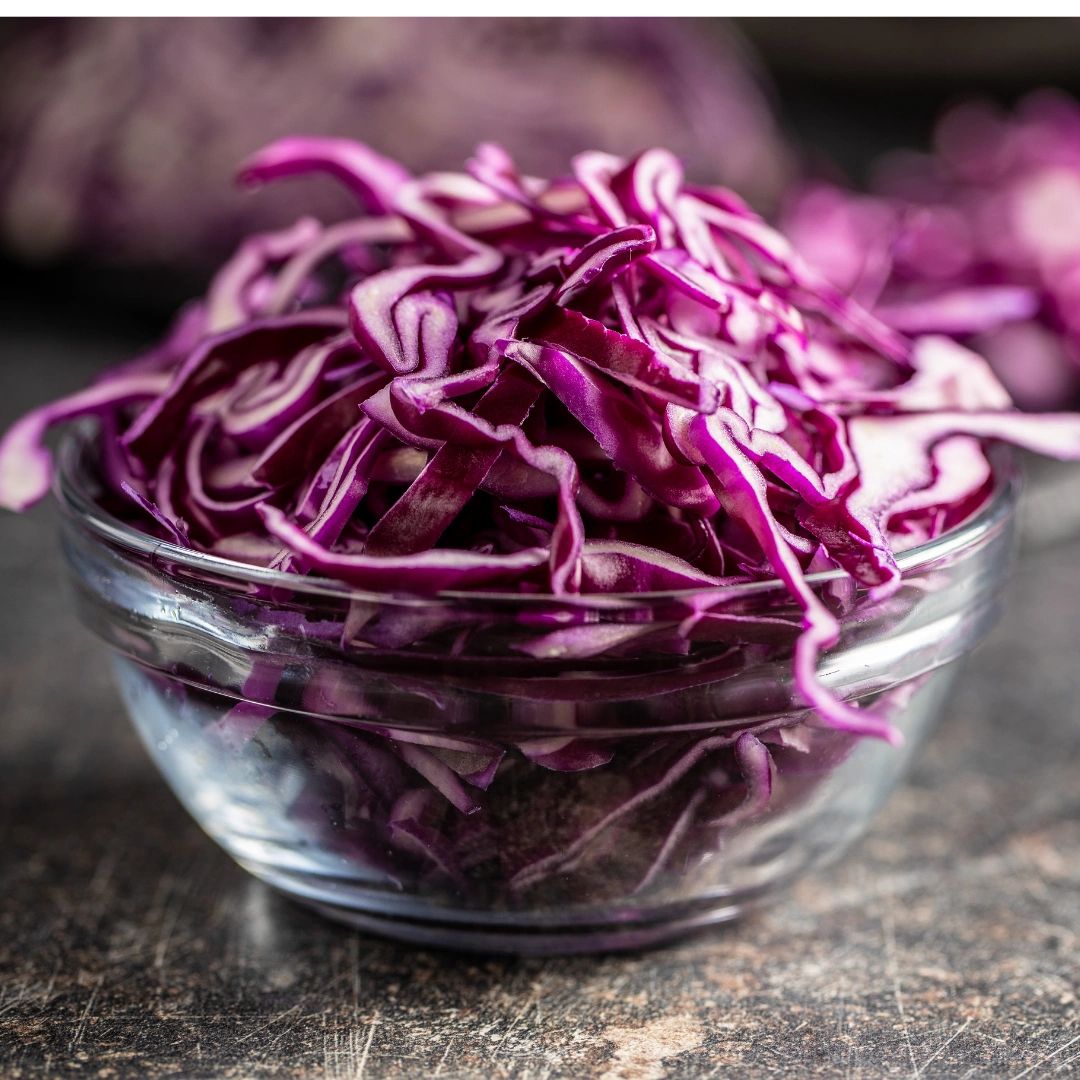 Thinly Slice the Red Cabbage and Onion
To give this coleslaw a perfectly thin texture you can use a mandolin slicer, a food processor with a slicing blade or a sharp chef's knife to slice the red cabbage and red onion. I love using my mandolin to achieve the thin texture. It is one of my favorite kitchen tools, that I have a strong respect and slight fear of. I remain diligent in using the finger guard that comes with the mandolin after almost slicing off the tip of my finger. I don't know about you, but I always cringe when I see chefs on cooking shows quickly slicing radishes with a mandolin!
We hope these suggestions will help elevate your Taco Tuesdays and make them more delicious and fun. You can download and print the Guacamole and Cilantro-Lime Red Cabbage Slaw recipes below.
All of our past recipes are accessible on our website as well. In our final post in this Taco Tuesday series, we'll share our favorite homemade side dishes to have on taco nights.